Homemade Snickers with Casein protein
Are you a die-hard fan of the famous Snickers chocolate bars?
But you want to watch your calories? What if we told you that it is possible to combine slimming and pleasure? We offer you the healthy alternative to the famous Snickers home version, the new guilt-free snack.
Our secret for this deliciously healthy snack? Casein Protein Belgian Chocolate flavor and Protein Shake Vanilla flavor. So, look no further and treat yourself!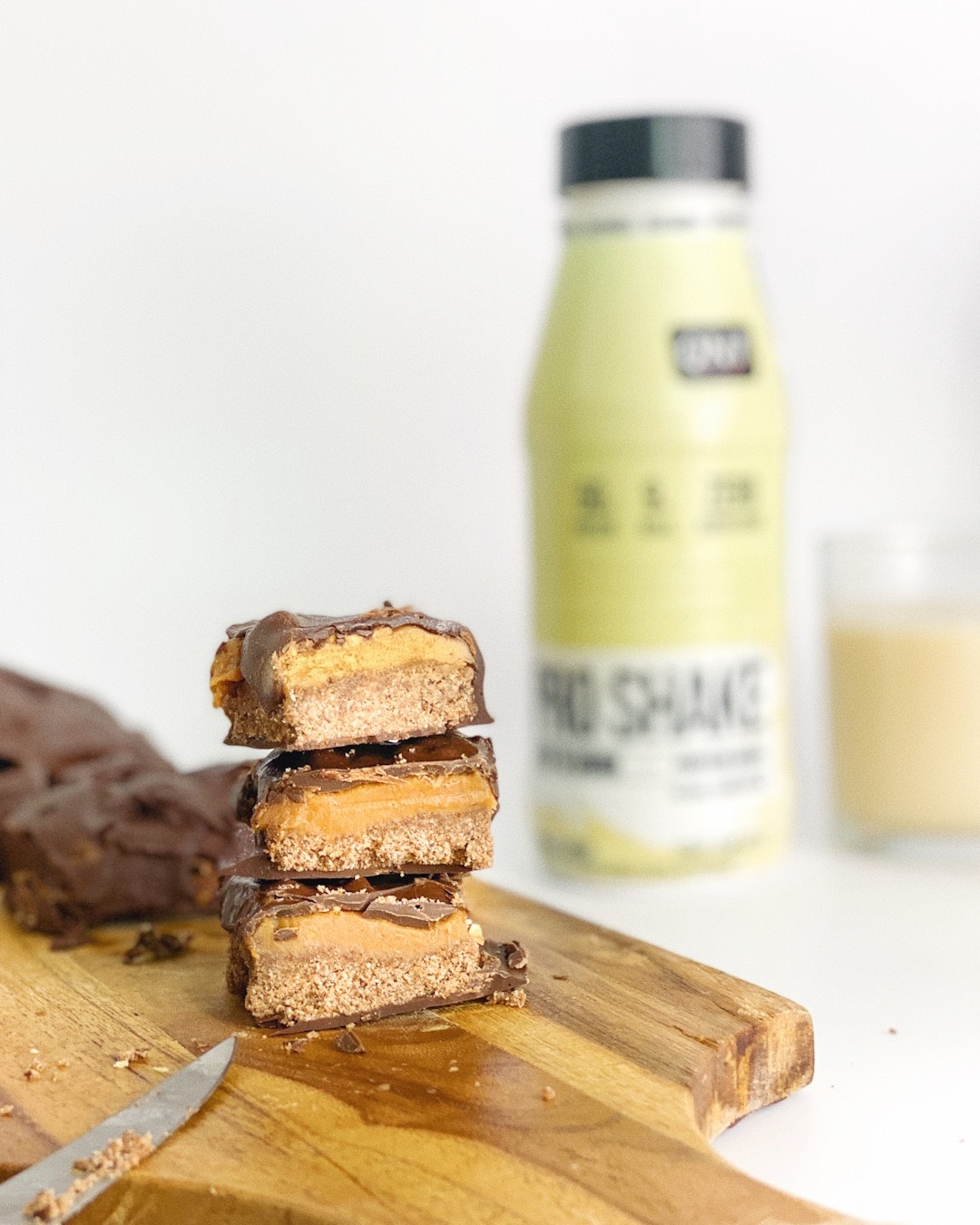 Preparation
Note - use only the CASEIN - because it will be too dry or too sticky if you use Whey. If you want your snickers to be even tastier, we recommend a chocolate topping with orange.
Step 1: Take a baking pan and line it with 8x8 baking paper and set it aside.
Step 2: In a large bowl, add your coconut flour, casein protein powder and cocoa powder and mix well.
Step 3: Then add peanut butter and sticky sweetener and mix until crumbly.
Step 4: Using a ½, cup, add the vanilla protein shake until you get a thick batter.
Step 5: Put the dough in the filled pan and then place it in the freezer.
Step 6: In a bowl suitable for the microwave or stove, start making your "caramel" by mixing your peanut butter, sticky sweetener and, optional coconut oil. Melt until the caramel is completely immersed and silky smooth. Then pour it over the nougat layer.
Step 7: Cut a few peanuts and if you wish, add them to the caramel.
Step 8: Remove the dough from the baking pan and cut it into bars.
Step 9: Melt the chocolate chips.
Step 10: Then dip each snickers bar in the chocolate until well coated.
Step 11: Then place them in the freezer until the chocolate has firmed up.
Step 12: Enjoy!
Recipe:@fp_marta.s
Share this content